Books
Life Eyes – The Gateway to who you really could be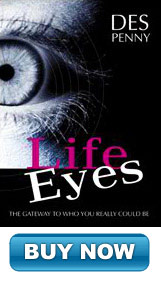 In his book 'Life Eyes: The Gateway to Who You Really Could Be', Des Penny shares a practical and powerful way to see and work with the people around us, and our experience of everyday challenges. The practice of living with 'Life Eyes' involves seeing beyond the obvious to discover what is really happening.
As the Optimistic Disturber and an award winning Australian leader, Des Penny shares his thoughts on leading and living with insight. Through developing a greater level of insight we can improve our decision-making, our outlook on life and also our relationships.
When you are reading this book, enjoy the fun stories and the powerful messages but also look past the obvious and see what you can discover for yourself through each of the experiences and stories.
As I looked around the table at the five highly-intelligent men with whom I had worked for the past five years, it dawned on me that I did not like them, I did not respect them and I certainly did not want to become like them.
---
---
Proteus Life
The official magazine of proteus enterprises p/l
Des Penny – Editor


Proteuslife is a quarterly magazine produced by Proteus Enterprises. The magazine covers the life of the Proteus team but also looks at contemporary leadership and lifestyle initiatives through articles and advertorials.
This is a free resource aimed at helping individuals and organisations to grow.
Click on the link to read the online versions. Alternatively you can sign up to receive a free copy delivered to your home or work – Click here to subscribe.
Enjoy the read and please feel free to leave your comments or contact us for more information on advertising in the magazine or if you wish to contribute an editorial.
---
Videos

Proteus Leadership Breakfast Series #1 2014 – Des Penny ( The Optimistic Disturber ) Talks about Innovation and Change
---

Finding a better way. Keynote Speaker. Provocative and Inspiring. Des Penny is the Optimistic Disturber.
---